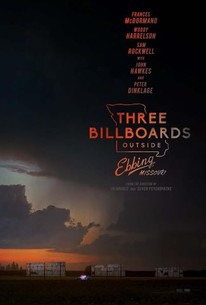 Months after a woman's daughter is murdered, she has three billboards plastered with a complaint about why the police haven't solved the case.
Review 2017 by Flytrap
Three Billboards Outside Ebbing, Missouri
Written by: Martin McDonagh
Directed by: Martin McDonagh
Starring: Frances McDormand, Sam Rockwell, Woody Harrelson, Zeljko Ivanek, Peter Dinklage, Caleb Landry Jones
Complete cast and crew here
Rated R
Running time: 115 Mins
Feeling she is being ignored by the police, an embittered woman has a rather nasty message pasted to the billboards, which starts a chain of events that intertwines the police, her remaining son and the town in general. No one seems to be unaffected.
And there's a dwarf.
This is a perfect movie. Nothing else needs to be said. Well, except that Sam Rockwell really shows what he's capable of. Everyone is great, the story is gripping, and the town is perfectly bucolic.
Go see this one; you won't regret it. No post credit scenes.
Flytrap rating: 10/10
Want to discuss / rebut / flame me?
Leave a reply below.